Heroics: the comic event of 2019!
The Himalayas, 1936. James Norton and his scientific colleagues discover a strange new source of energy. But, the first contact means death for one of them, and causes genetic disruptions all around the world! Now faced with their tragic yet endearing discovery, James and his family embark in a high-risk and reckless adventure across Europe, as he tries to understand and help these new superhumans with extraordinary powers. Meanwhile, other forces are at work in the shadows… that will push all these adventurers into a far darker quest, and reveal the hero in each of them

Official release: November 6th

>> The album will be available in English and in French
Please note, when ordering, specify in the « note de commande » field that you would like to receive the ENGLISH version
Heroics, a French super-heroes comic book? Not just that…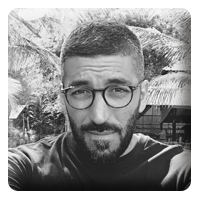 Maxime Garbarini, the creator of Heroics, has been an avid reader of comics, since he was 8-years-old. His favorites were the X-Men, the Legion of Superheroes and the Titans; large-cast titles that told character-driven stories with a lot of drama and action. The love for these larger than life soap operas drove him to eventually write and draw his own: enter HEROICS!
But before he did that, he gathered experience: first in the 90's, when he co-founded AREA a fanzine about comic-books(6 numbers in NB, with drawing, articles and jokes). This allowed him to focus his passion and nurture his artistic side. Self-taught, Maxime's work and style were quickly noticed and in 2009, he published his first comic, « Premier Bébé » with Hachette Pratique.
A year later, he started the Close Call Comics project, a dedicated website and weekly webcomic that brought him back to his first love: the superheroes. The genesis of the story you will read in Heroics, was originally unveilled, a new page each week for almost 2 years!
A few years later, he drew the sixth issue of The Pride, written by British author Joe Glass. Helped by his spanish talented friend Héctor Barros on inks and colors, this episode of the LGBT superhero team closed the first arc and was well received by critics and readers.
Maxime also recently started a drawing & comics workshop at the Comics Corner bookstore (Paris XI) which allows him to share his passion and to help future writers and artists of all ages and levels.
Season 1: Fathers
Before Heroics was Close Call Comics, Maxime launched his great Saga in 2010 on the Internet, in the form of a webcomic. A new page was posted every week, sometimes separated by bonus pages featuring elements that enriched the story, Maxime kept many fans spellbound for several years, producing about 75 pages. Unfortunately, he was forced to stop his series. His readers were clamoring for the hard copy of this extraordinary work. But, until now, the opportunity had not presented itself…
Today, the adventure resumes with NorthStar Comics!
Heroics was conceived in the form of seasons (like TV series), each built around a major event and an era. Maxime has already planned 5 seasons, taking his characters from World War II to the present day!
This first album will allow you to meet all the protagonists of Heroics. You will get acquainted with them and know the motivations, personalities and hopes… that will drive their storylines. And, as you will see, each path gets more and more dangerous, mysterious and action-packed.
We at Northstar Comics, have the immense pleasure to introduce you to this first volume and first season, the 124 beautiful pages of Heroics !!!
And if you haven't already, you too will succumb to the formidable talent of Maxime and we are sure you will ask for more of Maxime Garbarini's art and story!!!
Now Heroics needs YOU !!
What will the funding be used for?
Northstar Comics produces quality indie comic book projects. The crowdfunding aspect helps us support and promote the books and their creators. Crowdfunding also allows us to be closer to you, readers and fans of our books. We can offer new rewards and bonuses that complement your reading experience.
Note that, whatever your participation is, your name will appear in the album in the Thank you section and you will receive a beautiful « Heroics » bookmark as a gift.
The album will have 152 pages: 124 comic strips + 28 pages of unique editorial content and bonuses.
Do not wait until the album is printed to buy it! Heroics needs you right now!
And as we say, the more, the merrier, each new reached stretched goal will unlock new surprises, always relevant to the book itself and its universe.
For info:
– The shipping costs are included only for metropolitan France. Outside this zone, the shipping price is € 9.20.
– Online payment is secured via Paypal or by card via our 3D Secure payment module.
– The price ranges indicated on the packs are indicative. When you click on a pack, it is its standard price which is validated (15, 20, 30… according to your choice). This is a « default » of the software. But nothing prevents you to complete this amount! 😉
Choose your pack and go back to the campaign page to select it in the « Rewards » column











The steps
Once our goal is reached, we wish to extend the adventure by offering you even more gifts. If the campaign goes even further than 100%! Each step reached will allow us to pay our authors an advance and, of course, each time, we unlock a new gift for EVERYONE, regardless of the amount of your participation! One way for us to thank you for your support and your loyalty. But also to encourage those who hesitate to join us to participate in their turn. There is no small contribution !
FOR EVERY CONTRIBUTOR, regardless of the pack you chose
⊗ 2500€ / 100% – The album is printed and sent
⊗ 3000€ / 120% – 1 collector trading card
⊗ 3500€ / 140% – 1 exclusive print
⊗ 4000€ / 160% – 5 variant covers
⊗ 5000€ / 200% – Maxime Garbarini's sketchbook
⊗ 6000€ / 240% – 5 « greetings from Greeton » postcards set
⊗ 6500€ / 260% – upgraded edition: thicker paper and special ink cover
⊗ 7500€ / 300% – a short-stories anthology that digs deep into the characters of HEROICS
⊗ 8750€ / 350% – 10 trading cards set featuring the heroes of HEROICS
⊗ 10000€ / 400% – a HEROICS tote bag to carry all these awesome bonuses